There are many opportunities for enjoyable painting sessions in Baraboo, Wisconsin. This certain scene is one of my favorites. The stacking of buildings creates an interesting layout, one that culminates with the silhouette of St. Joes church against the sky.
Golden hour, on my 29th birthday.
9"x12"
A few days later, mid morning.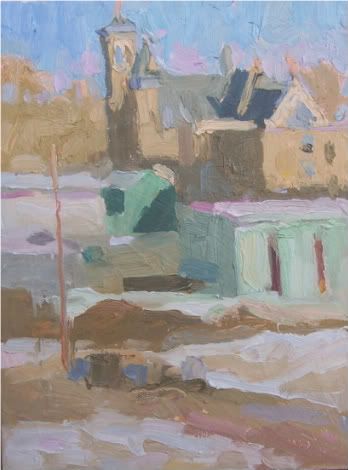 9"x12" picture a bit crooked.
The next evening, from a different view.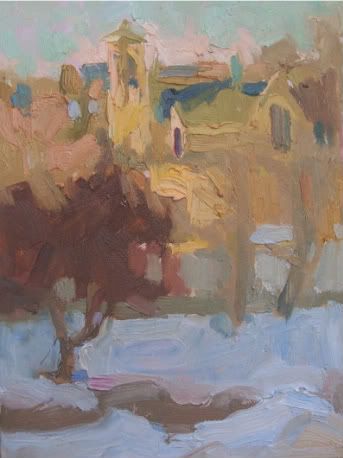 9"x12"
It has been a long interval since my last post. I have been doing a lot of painting and observing, trying to grow while being in the middle of a demanding semester. Any time that I get to unload the french easel from the trunk feels great, a needed release. At the same time, and this is something that many can respect, is that growth does not mean finished ideas. Often times it is just the opposite, fragments that may lead in the future. At any rate, the life of an artist is a good one!
"Those things are too beautiful for use. The subject may be very beautiful, but it will only be beautiful with a veneer of the thing I was talking about-that is, it will be purely literary painting. The reason is that you have thought about it in that way-that it was a landscape. You painted it because it was beautiful, but you did not have a sense of how beautiful those shadows were, coming against the sky. True you have made the house of the correct and conventional shape, but it couldn't possibly have meant anything to you; you did not specially settle yourself to paint that scene with the conviction that it was beautiful, that it was a beautiful subject. That was yellow sunlight, these widows would be purple-true, these windows of yours are the accepted shape, but see how in Sargent's water colors you have a conviction of shadow before you notice his purple. I want you to see things from the realization that your drawing does not need to be a house. The view that you mst take is that this is a piece of God's outdoors, that this is shadow and this is light. You ought to tremble before it, and not sit down like a magician and try to make windows" - Charles Hawthorne.