Autumn is a special time.
So special that I have felt the need to push further, to try new things.
While I have not posted any work lately, the struggle part of experimenting being felt, I have been painting every day. In late September I drove from Reedsburg to Baraboo through North Freedom. This ride was so intense and filled with the different moods and feelings of autumn that I decided it would be of more value to paint several pieces in a day instead of one. The goal of doing this would be that it would be possible to use these as reference material for some studio work.
Now, reflecting on this idea, I don't know if it worked, but it seems that it has been of value to growth. Part of the growth being simply in the act of pushing and trying for something else, if we always know what we are doing the results are not a step forward.
I painted in several ways. Sometimes, trying for accurate color up front as in these pieces, time being the reason for attempting accuracy at the start.
8"x6"
12"x16"
At other times, the building up of masses was more important, often starting with a warm massing and painting cooler on top to attempt color vibration.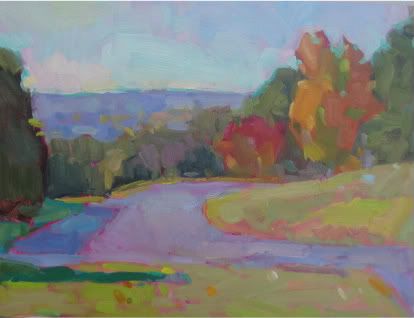 12"x16"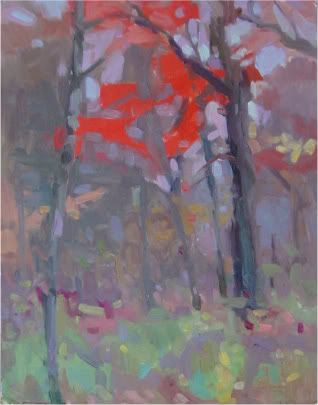 16"x12"
Another consideration of these paintings is that several of the pieces are small. While it may have saved a bit of time, there were several instances where a larger canvas could have helped. I enjoy the gesture of a larger canvas as well as the way you can divide the masses more easily.
"The quality of the blue used, it's refinement reveals the stage of development of the artist making it. He begins with flat masses and modifies it as he makes comparisons and adjustments with the other masses of color, recording his light scheme. The big masses are most important, and those he improves as much as he is able before making variations within an area"
- Henry Hensche
Well, the color is mostly gone now, Jenny and I have some raking to do. I hope to post more soon.
Kyle